It seems to be the one consistent sentiment that most homeowners and buyers can agree on: kitchens sell houses. A fresh and beautifully updated kitchen will always leave a lasting impression. As with any major renovation project, executing the perfect kitchen remodel requires several key aspects. To help get you started, here are five ideas for your next kitchen makeover.
Countertops
One of the biggest design elements to consider with kitchen renovations is selecting the perfect countertop. Countertops now serve double duty as workspaces and statement pieces. The choices are numerous and span all design budgets. Popular options include quartz, granite, and marble. Other choices include butcher block, concrete, stainless steel, and synthetic, solid-surface countertops.
It has also become increasingly popular to select one surface for the main countertop workspace and an entirely different, but coordinating material for the kitchen island. If a full-blown replacement isn't in your budget, look into your options for kitchen countertop refinishing—as this is a great way to restore the look of your kitchen. Whatever your choice and budget, countertops serve to increase the functionality of our kitchens and convey the age-old adage of being "the heart of the home."
Tile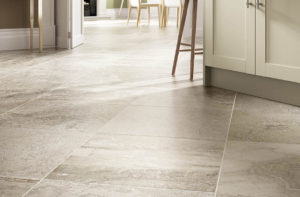 Image via Flooring Inc.
Choosing tile as a source material for kitchen renovations is immensely popular. While it is often used as a flooring option, selecting the right flooring pattern is also critical. Should the tiles be arranged horizontally, vertically, diagonal, staggered, or perhaps even in a herringbone fashion? It can also be considered as a countertop choice.
One of the most popular uses for tile in kitchen renovations is as a backsplash. While there are a multitude of color options, it is vital to remember the different shape options as well. Rectangular subway, glass mosaic, arabesque, and a basket-weave patterns are just some of the choices available.
Lighting
Brighter lighting is often associated with fresh, clean, and new spaces. Adding new lighting fixtures to a kitchen remodel can make a serious impact, both aesthetically and on your profit return. Whether your purchase involves recessed lighting, a modern and stylistic chandelier, or a set of pendant lights, simply replacing the lighting fixtures can create a new and inviting space.
Appliances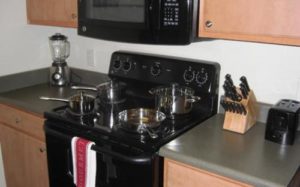 Image via St. Louis Corporate Housing
Let's face it: Nobody is interested in buying a house with run-down and worn-out appliances. Ultimately, a suite of new appliances is going to be costly no matter the budget, but there are always options to consider.
While slate and stainless steel appliances are most sought-after varieties, budget-friendly options include simply updating the appliances so that they all match or buying appliances that are considered "last year's model." Saving a few bucks on appliances means that you can invest those dollars elsewhere in the kitchen.
Cabinets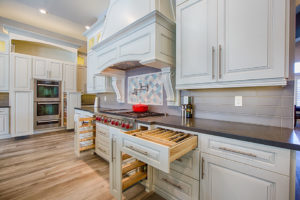 Image via SOLLiD Cabinetry
As with nearly every other component of kitchen remodels, there are several different styles of cabinets to select from. A cabinet door with a flat or raised panel? Or perhaps even glass? Some homeowners are even opting for open, floating shelves as an alternative to the standard cabinet.
There are some innovative ways to save money on cabinets when it comes to kitchen renovations. Often, homeowners will choose to replace only the cabinet doors and hardware, and then leave the wooden frame of the cabinet itself. Others will opt to simply repaint or stain the cabinets. These are both excellent ways to update your kitchen without going over budget.
While popular, home renovations can also be time consuming and expensive. However, creating a warm and inviting kitchen will also provide a nice return on your money. Whatever the design plans, there are always options for every budget.
To learn more about kitchen counter refinishing and repair, reach out to the experts at Miraculous Makeovers.