Expert Tri-Cities, TN Bathroom Ceramic Tile Refinishing Services
Do you need to transform your existing wall tile in place without demolition or removal? Need a wider selection of tile reglazing colors? looking for experts who knows how to reglaze tile? Call Miraculous Makeovers now at (423) 612-4174 to learn more about our bathroom ceramic tile refinishing in Tri-Cities, TN area. Visit our online specials page to save on your next service.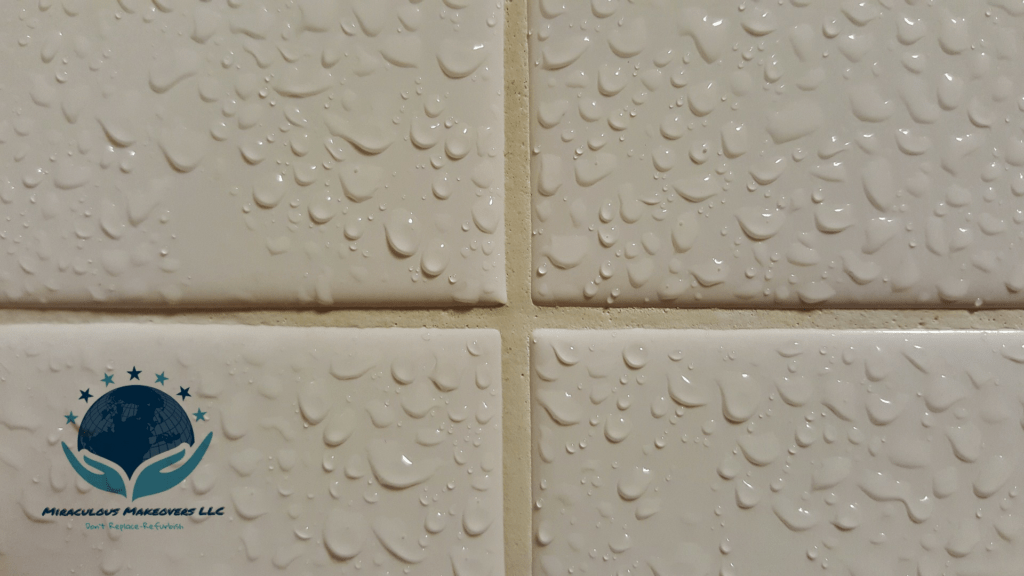 We are bathroom ceramic tile refinishing experts for your home or commercial building in the Tri-Cities, TN area. At Miraculous Makeovers we can reglaze ceramic tile in one day without demolition or removal and no ceramic tile installers needed. Plus, we'll also match or beat any written bathroom ceramic tile refinishing quote (from active Tri-Cities, TN licensed tile refinishing companies) by 10%!  When matching bathroom ceramic tile quotes, please keep in mind that all ceramic tile refinishing products and warranties are taken into account for matching purposes. Our bathroom ceramic tile refinishing starts as low as $425 with a 10-year warranty. Call us today at (423) 612-4174 for more details!
Find out what homeowners and Realtors in your area think about us by reading our latest ceramic tile refinishing reviews.
Need to Refinish Your Ceramic Tile?
Is your ceramic tile broken? Has the grout already failed? Ceramic tile replacement can be a big mess, for your home and for your bank account, not only can replacing bathroom ceramic tile get messy and pricey, it can also be inconvenient.
Give Miraculous Makeovers a call to transform your ceramic tile in just one day with no removal required. We will make sure to get a skilled and experienced tile resurfacing contractor out to your property as soon as possible. We understand using local tile installers when replacing ceramic tile can take up your time and cost huge amounts of dollars. That's why we provide bathroom ceramic tile refinishing services to bring you options that fits your budget and have you back enjoying your bathroom as soon as possible.
What Tile Reglazing Colors Are Available?
We have a large selection of shading choices when you are looking for expert tile refinishing companies to give your bathroom ceramic tile a custom update. We know how to change color of ceramic tile and can have any shading you lean toward fabricated, simply give us the number from a color card, and we will begin planning for your one of a kind venture.
Our solid in-house colors: Additionally, we utilize our stone finishes on bathroom ceramic tiles to totally give your bathroom a flawless look. At Miraculous Makeovers we know how to change the color of your bathtub just like we know how to change tile color without replacing. Go check out our tile reglazing before and after gallery to see what we can do for you.
Bathroom Ceramic Tile Refinishing Cost
From time to time tile becomes ugly, hard to clean and old grout lines begin to fail completely. We can solve these issues for you. In addition, we can also prevent these problems from occurring again by sealing in your grout with our special ceramic tile refinishing products which will prevent future leaks and mold growth. This is useful considering the expensive cost to replace ceramic tile in your home or business. Ceramic tile replacement can cost upward $3,000 and your tile is still vulnerable to leaking. Ceramic tile glazing is a must if your tile is older and has noticeable damages.
Whatever your tile refinishing needs are, we are ready to help with our local tile resurfacing experts. We use the latest and best techniques in the refinishing industry to solve your bathroom ceramic tile issues. All tile services must be scheduled with an in home estimate because all tile is not a like. We always provide fair and upfront pricing.
Advantages Of Professional Refinishing
– Trained and certified refinishers 
– On-time appointments 
– A fully masked worksite 
– UPFRONT, affordable pricing
– 100% GUARANTEED satisfaction!
There are a few things ceramic tile needs to perform at its best. The first thing is to make sure all grout lines are not damaged. When you call Miraculous Makeovers for your bathroom ceramic tile refinishing, you can trust that your grout will be repaired and your ceramic tile is getting the best tile refinishing products plus receiving every step of our high quality bathroom ceramic tile refinishing process. Our attention to detail ensures you can have peace of mind knowing your ceramic tile is like new.